Today we slowly worked our way back to Albuquerque. We started with the continental breakfast at the hotel, which turned out to be our choice of white, wheat, and raisin bread, coffee, and orange juice.
NMT
Our first stop was at the New Mexico Tech campus. The directions were a bit misleading and we drove way past the parking area, almost entering a security restricted zone. Coming back, we found the correct parking lot, which was covered with American Crows. There was supposed to be a pond around with potentially good birds. We wandered around a bit before finding it. Lots of wigeon, coots, and domestics. A yellow-rump and some juncos around the edges.
There was a small wooded area on the other side, so I wandered over to check it out. Ethan decided to see what was in the building. I found a Cooper's Hawk, a kingfisher, a Mountain Chickadee, and a Ladder-backed Woodpecker. Ethan came back with a t-shirt and a pile of brochures about the conference for science teachers going on inside.
We then headed back to Rt. 25 and started back north. I had picked out a few stops along the way and Ethan wanted to stop at the wildlife refuge that we see signs for, so we would hit whichever one came first.
La Joya Refuge
As it turned out, there were two stops at the same exit. We started with the one on the right, the La Joya refuge. Not sure where the waterfowl were supposed to be as it was all desert scrub and a small stream. Lots of flickers and crows with some White-crowned Sparrows and Bushtits along the stream. On the way out a thrasher popped up. I jumped out with the scope but it took off and couldn't be refound. The quick view was enough to say it was a Sage Trasher, although I wouldn't count it as a life bird.
Sevilla NWR
The Sevilleta NWR was on the other side. Most of it is closed to the public, but there was a visitor's center. The center had a flock of House Sparrows and some Western Pygmy-Blues. One of the brochures gave directions to one of the segments that was open to the public (I don't have any idea where the other is still). However, it was down the road that we didn't take in the middle of La Joya so we skipped it.
Bernardo Game Lands
Next stop was the Bernardo Game Lands. Before going to the gamelands themselves, we drove down Rt. 60 to check out a few ponds. A small bird on the wires caused us to pull over. Pulling out the scope, we found a flock of Mountain Bluebirds (life #5). A few Cedar Waxwings were mixed in.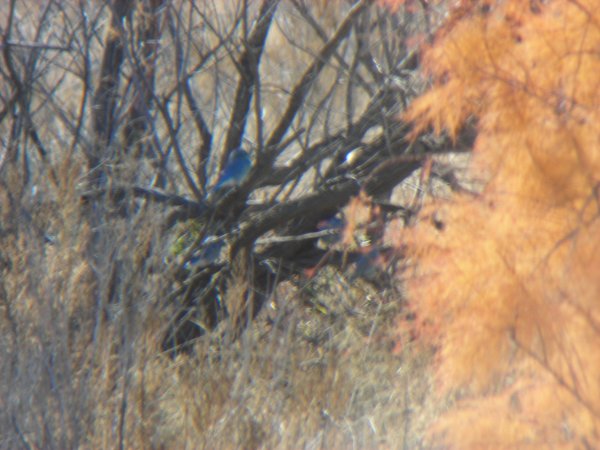 We also found a few cranes, a harrier, and some ducks, again mostly shovelers. We then went up to the gamelands, where we drove the loop. A few hundred cranes, a couple more bluebirds, and a couple Great Blue Herons were about it. Some of the cranes came right up to the road, so no complaints.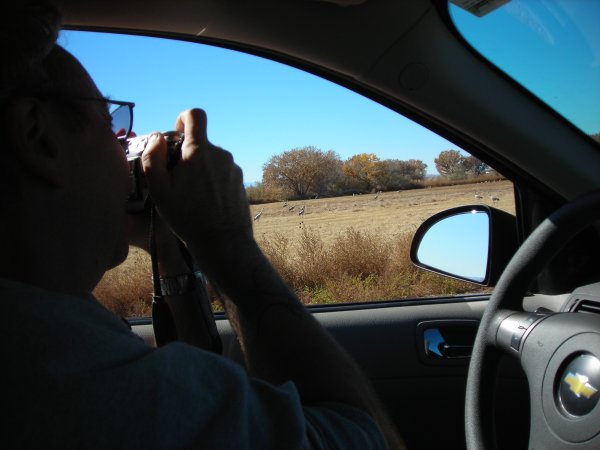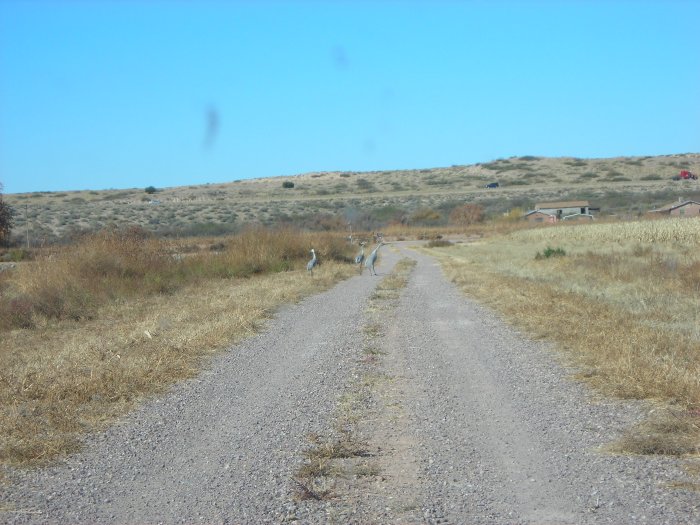 Belen
Our next stop was supposed to be Willie Chavez Park in the city of Belen. After a quick stop for gas, we found the park (missing the turn). However, being Veteran's Day, it was very crowded. We didn't stay and worked our way over to the Madrone Ponds instead. Once I read the directions correctly, we found them quite easily.
It was after 11, so the birding at the ponds was pretty dull. We only found a Ruby-crowned Kinglet, some Bushtits, and a kingfisher. A few American Rubyspots were hanging around near the start of the path, apparently a Valencia county record (almost certainly due to lack of coverage). A few other odes were flying including a forktail (I think either Mexican or Desert) and a Variegated Meadowhawk (which posed nicely and I got a great shot of the branches behind it). Back at the car, a raven flew over, not sure which species, although from habitat I'd lean towards Chihuahan.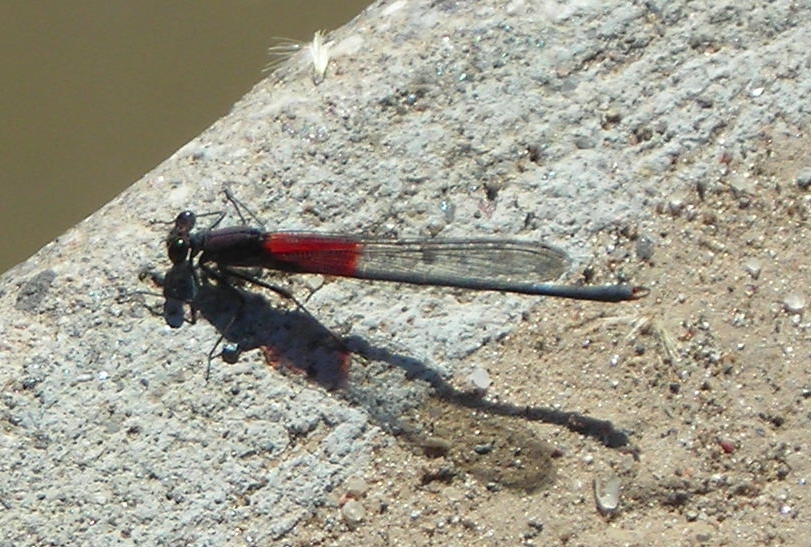 Albuquerque
We decided to skip the rest of the stops and headed back to Albuquerque, where we finished up the meat at Ethan's house. We rested for an hour or so, and then decided to go to the Rio Grande Nature Center.
Rio Grande Nature Center
We got to the nature center somewhere around 3:30. The parking lot closes at 5, so we didn't have a ton of time. We walked through the visitor center and checked out the pond, which had lots of Wood Ducks, Gadwall, Ring-necked Ducks, and others. We then took a quick walk through the grounds. There were some of the typical birds around (Mountain Chickadee, Mourning Dove, House Finch, White-breasted Nuthatch, Red-winged Blackbird).
I decided to watch the feeders for a bit, while Ethan went back to try to get some duck photos. There were a few juncos and a banded Spotted Towhee around along with the things mentioned before. I tried to turn one of the finches into a Cassin's but finally decided it was just an odd House.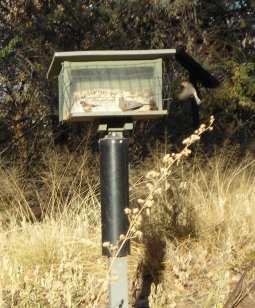 As it was getting a bit late, we went back to the parking lot to check out the pond on that side. There were a few more ducks including Bufflehead and a Black Phoebe. Scanning the edge of the water for more Wood Ducks, I found a Wilson's Snipe. We decided to move the car out to the street and then walk the trails before it got dark. On the way to the car, a Double-crested Cormorant flew overhead.
The trails themselves were fairly dead but still had some nice sightings. At the river, an adult Bald Eagle flew over. On the way back, we found a couple Black-capped Chickadees and a Cooper's Hawk. It was a nice walk regardless.
We finished the day with dinner at Los Cuates. Excellent food (I had the steak and potato burrito, which was basically a shephard's pie in a tortilla, Ethan had fajitas). They were a bit overzealous refilling the iced tea, but that's not a complaint.
Day totals: 49+ species (1 life, 8 state), 3 dragonflies (2 new, 1 only to genus), 1 butterfly